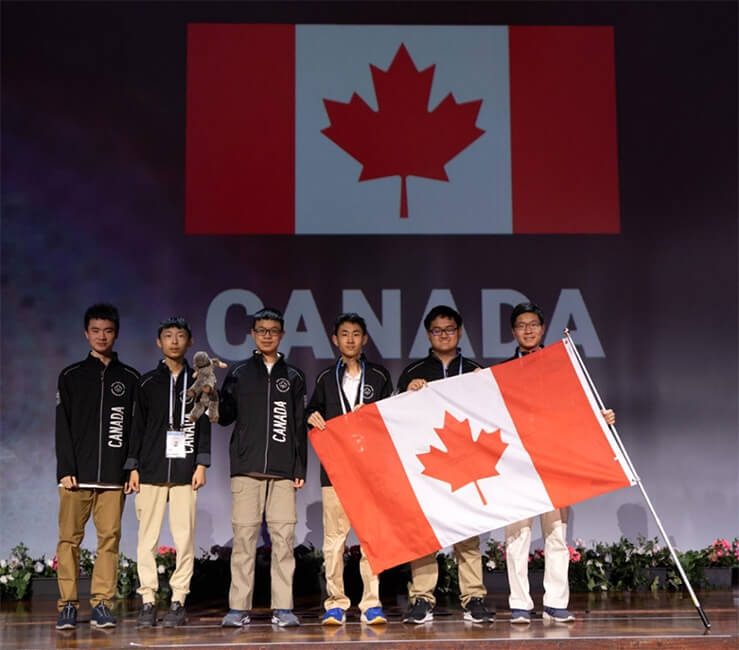 Two Olympiads School Students Participated in the IMO
In 2022, two Olympiads School students from the 63rd International Mathematical Olympiad (IMO) returned with a silver and a bronze medal.
Our silver medalist, Kaixin Wang, is from Vancouver. He's been studying at Olympiads School remotely for the past two years. In the 2021 COMC, Kaixin received a perfect score. Since joining the national math winter camp, not only has he taken advanced math courses such as the IMO at Olympiads School, but also taken private lessons with our principal, Mr. Jiang.
Our bronze medalist, James Yang, has been studying at Olympiads School from Grade 8 until Grade 12. Earlier this year, he was accepted into Carnegie Mellon University.
When James qualified for the national team, Mr. Jiang specifically opened an enhanced training class to prepare him and Kaixin for the IMO. After returning from the IMO, James still attended our advanced math class because he wants to prepare for the university math contest Putnam.
In the past 15 years, all of Olympiads School's students who went to the IMO had taken Mr. Jiang's enhanced Olympiad training classes.
One of our earliest students who went to the IMO was Matthew Brennan. He joined Olympiads School from Grade 9 and had taken 4 advanced competition level courses. In 2019, he was the Canadian IMO team leader.
In 2007, Mr. Jiang received the Edyth May Sliffe award from the Mathematics Association of America (MAA) for outstanding math teachers and became a member of the MAA.
As more students become interested in math competitions, Olympiads School expanded its advanced math competition course offerings. Aside from Mr. Jiang, there are also two other teachers who teach advanced math courses. They are: Dr. Tatiana Hessami Pilehrood and Dr. Emanoil Theodorescu. Since 2017, all of the advanced math competition courses have been taught by these three teachers.
Every year, Canada selects 6 students for the national math team. Below are students from Olympiads School's past IMO achievements:
2022:

Kaixin Wang – Silver medal
James Yang – Bronze medal
2021:
Thomas Guo – Gold medal
Eric Sheng – Gold medal
2020:
Michael Li – Gold medal
Thomas Guo – Gold medal
Eric Sheng – Gold medal
David Tang – Bronze medal
This is the second time that Team Canada received 3 gold medals at the IMO
2019:
Victor Rong – Gold medal
Howard Halim – Silver medal
William Zhao – Bronze medal
Thomas Guo – Bronze medal
David Tang – Bronze medal
2018:
William Zhao – Silver medal
Victor Rong – Silver medal
Howard Halim – Silver medal
Thomas Guo – Silver medal
2017:
William Zhao – Gold medal
Victor Rong – Silver medal
Thomas Guo – Silver medal
2016:
William Zhao – Gold medal
2015:
Yan (Bill) Huang – Bronze medal
2014:
Rong Xin (Richard) Du – Team Canada substitute member
2012:
Matthew Brennan – Gold medal
Kevin Zhou – Bronze medal
2008:
Yan (Cynthia) Li – Silver medal
2007:
Yan (Cynthia) Li – Bronze medal